Edmonton Wheel Alignment Service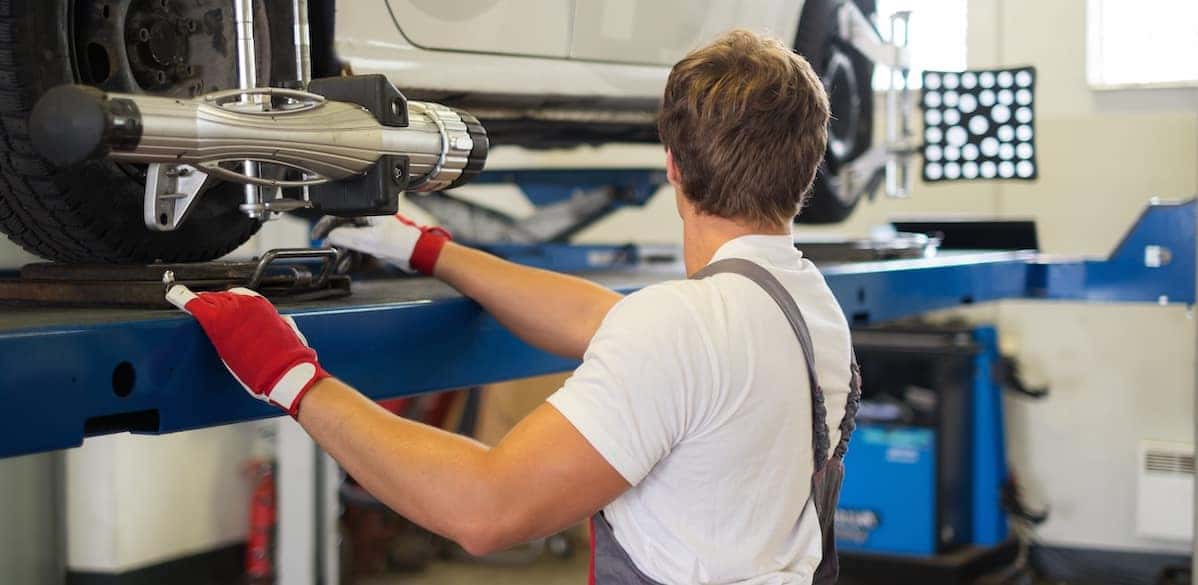 Is your car pulling to the right or left when you drive? You may be ready for wheel alignment service. The certified technicians in the Service Centre at Capital GMC Buick can professionally realign your wheels and get you safely back on the Leduc-area roads in a timely manner. Find out more about our Edmonton wheel alignment service, and then book an appointment with us today!
Schedule Service Service Centre
---
How to Tell When Your Car Needs a Wheel Alignment
Some telltale signs that your wheels may be out of alignment include: 
The steering wheel is not centered when you are driving straight ahead.

The tires are showing uneven wear.

The car pulls to one side when driving.

You hear unusual noises when steering.
Should you notice any of the above, it is a good idea to visit our Service Centre near Edmonton to have your wheel alignment checked out. 
How Often Will My Car Need a Wheel Alignment?
Although there is no hard-and-fast wheel alignment schedule, the service team at Capital GMC Buick recommends that you have your wheel alignment checked every 10,000 kilometres. A routine inspection can identify any problems with the alignment or suspension before they become more serious and expensive to repair. Our state-of-the-art Service Centre is equipped with the most advanced diagnostic tools available, and our expert technicians can quickly locate and resolve any issues we find.
What Causes Car Wheels to Get Out of Alignment?
There are a few different things that can cause a car's wheels to go out of alignment. Here are the most common:
Hitting a pothole, bumping into a curb, driving too fast over a speed hump, or being involved in a collision.

Loose, worn, or damaged suspension components, such as shocks or struts.

Vehicle modification. For example, if you have installed a lift kit on your truck, it will change the height of the vehicle, and if the suspension has not been adjusted accordingly, it can cause the wheels to go out of alignment.
What is Wheel Alignment Service?
When you bring your car, truck, or SUV in for an Edmonton wheel alignment service, our technicians will make adjustments to the suspension to ensure that the tires are perpendicular to the road and parallel to each other. This will make the tires contact the road surface evenly and help to keep all four tires working together at the same speed and in alignment. As stated before, a wheel alignment service isn't a part of your regular maintenance schedule and is performed only when necessary.
Get Professional Wheel Alignment Service at Capital GMC Buick
If your car is in need of a wheel alignment service, you can count on the skill and expertise of the service team at Capital GMC Buick. Make sure to check out our current service specials and coupons to get the best deal on your next Edmonton wheel alignment, oil change, or tire rotation. Take advantage of our Service Health Check the next time you're planning a road trip in the Sherwood Park area. If you have any questions, please feel free to contact our Service Centre.