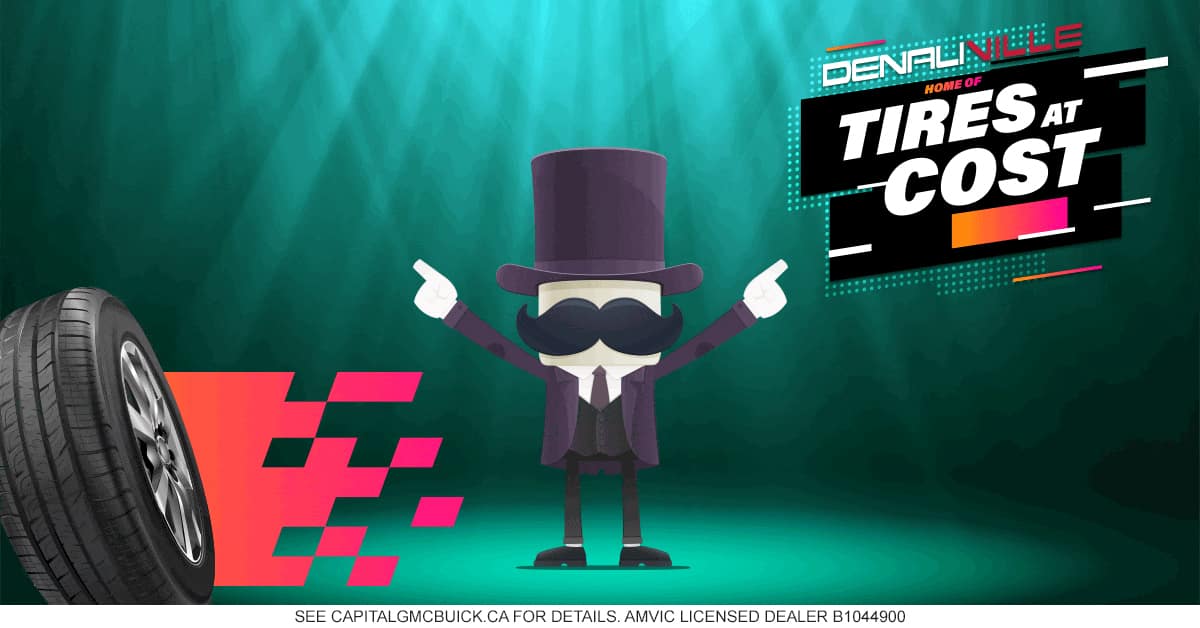 Open Today! Parts | Call Us At

:

844-696-1811
Monday - Friday

8:00 AM - 5:00 PM

Saturday

8:30 AM - 3:00 PM
Capital Tires At Cost
Time for 1, 2, 3, 4, or a fleet of tires? Capital is Edmonton's home for Tires At Cost!
Searching for tire shops in Edmonton? You'll want to take advantage of the Capital tire sale. No smoke and mirrors, we offer tires at invoice cost. That's right, whether you are in need of summer, winter, or all-season tires, we offer them at COST! Aftermarket Wheels are discounted as well and we also PRICE MATCH all the others just in case!
Drivers like you from Ellerslie to Millwoods know that our Capital Tires at Cost offers an affordable way to keep your vehicle safe all year long. You've got a lot riding on your tires, and ensuring that they are always in top condition is essential. Why wait? Get a great deal on new tires in Edmonton today at Capital GMC Buick!
Capital Tire Sale
You have other tire shops in Edmonton to choose from, but with our Capital Tires at Cost, you'll find tires of all kinds from major brands that are priced just right for your budget. Need a new tire for your SUV? Want to get a full set of winter tires for your pickup truck?  We've got the tires in Edmonton that you need today!
Want More?
Buy 4 tires from Capital and for the life of the tires we enroll you in the Capital Customer Care Plan:
Free Flat Repairs
Free Rotations
Free Alignment Checks
Free Road Hazard Protection
Free Balancing
Free Tire Pressure Monitoring Sensors relearning
Free Air
See your Service Advisor for complete details
Pricing
Tire mounting on Rims - $49.95
Tire mounting off Rims - $99.95
Seasonal Tire Storage - on Special for $89.95/season


Get Tires in Edmonton Today at Capital GMC Buick!
In addition to our Capital Tires at Cost, our team of certified technicians offers a full range of tire care services including tread inspection, puncture repair, tire rotation, wheel alignment, and more! If you have questions about our Capital tire sale please feel free to contact our parts department, and the next time you're searching for tire shops in Edmonton, choose Capital GMC Buick!
PARTS HOURS
Monday

8:00 AM - 5:00 PM

Tuesday

8:00 AM - 5:00 PM

Wednesday

8:00 AM - 5:00 PM

Thursday

8:00 AM - 5:00 PM

Friday

8:00 AM - 5:00 PM

Saturday

8:30 AM - 3:00 PM

Sunday

Closed